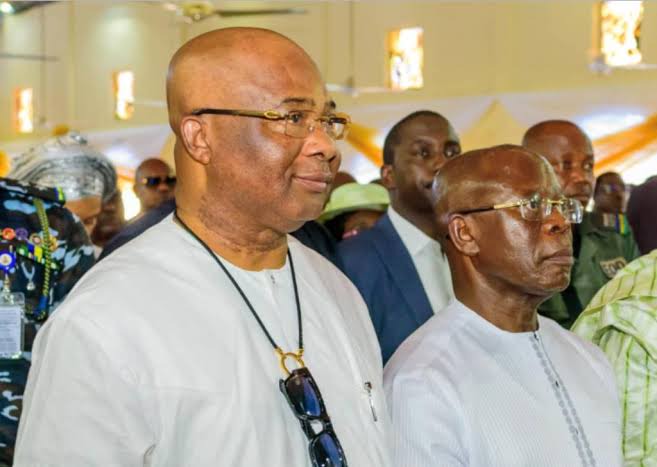 A media handler of the Imo State government, Mr Samuelson Iwuoha have threatened to get a PDP member and lawyer, Barr. Ekene Bob-Ekechukwu arrested for spreading falsehood against the governor.
Iwuoha made the threat on Barr. Ekene's post on Facebook where Ekene shared an alleged newspaper disclaimer against the Imo State governor, Hope Uzodinma.
Iwuoha further call on other members of the Hope Uzodinma media team, to warn Ekene, insisting that even though Ekene was his friend, he (Iwuoha) can be ruthless over such matters.
Samuelson was allegedly arrested by the Dr Ikedi Ohakim administration, for spreading malicious stories against the Ohakim administration.
He would later work for the late Senator Benjamin Uwajumogu, then Speaker of the Imo Assembly, but would be sacked for allegedly attacking his boss with false accounts. Iwuoha would later be detained as an accessory to a murder, but would later be cleared after months in detention.
His comments reads as follows;
"Ekene Bob-Ekechukwu, Ekene Bob-Ekechukwu, Ekene Bob-Ekechukwu, Thread Carefully. I Can Have You Arrested, Detained And Prosecuted For Blackmailing The Governor, Hope Uzodinma. In The First Place, What Is The Name Of This Newspaper? What Edition Is This?
You Are My Friend And Brother, But If I Am Fighting Crime And Blackmail Against The System, I Am Always Ruthless.
Mbazuigwe Davidson Asikogu, Bestoption Ujunwa Kelechi Okere, Kenneth Uwadi, Odogwu Deka And Barr Ikechukwu Nwaopara, Please Bear Me Witness And Caution Barrister Ekene Bob Ekechukwu. I Will Call For His Arrest, If He Continues To Blackmail The State Governor."